Frequently Asked Questions

Who can take the courses?
This course is for health care professionals such as nurses, nurse practitioners, physician assistants, doctors and dentists.
Is there a Patreon member discount available?
Yes If you are a member of Rana patreon a discount code is made available on Rana Kennelly's Patreon page to a limited number of patrons when the course is first published. You need to act quickly to receive these patron discounts.

Are these courses approved though an Accredited Provider?
The two courses Novice Facial Filler Online Training Course and Novice Neuromodulator Online Training Course are approved for CE hours through an accredited provider, the Ohio Nurses Association, an accredited approver by the American Nurses Credentialing Center's Commission on Accreditation (OBN-001-91)
The Microtoxin Injectable Technique On-Line Course, How to Start or Bolster your own Aesthetic Business and Complications Management talk are not accredited.

What are CEs?
Courses identified as having approved CE (continuing education) contact hours are included as part of the nursing continuing professional development activity approved by the Ohio Nurses Association, an accredited approver by the American Nurses Credentialing Center's Commission on Accreditation (OBN-001-91)

Course Compliance
The courses that accredited have course compliance enabled, meaning each student must complete watching the entire video in order to move onto the Quiz.
Each student must then score 80% or higher on the post quiz in order to complete the course and receive the course completion certificate.

Can I pause and go back on the video?
You are required to watch the online course in its entirety from one device. If you split your viewing between devices 'teachable' does not recognize that you have watched the online course in its entirety therefore you cannot continue to the post test and evaluation.
In addition, if there is an interruption on your device whilst viewing such as someone facetiming or skyping this could interrupt the viewing percentage. We suggest to rewind 1 minute prior to the interruption to continue viewing

Is this course hands-on?
The online courses give you the best preparation for hands-on training. After you have completed the online novice neuromodulator and facial filler you are welcome to join us for a small group hands-on training at The Confidence Lab in Chicago. The online course is Part A and Part B is hands-on training. The training schedule for Part B hands-on training is posted online at www.theconfidencelab.com. The full day hands-on training is $2,400 where you will inject neuromodulator in the morning and facial filler in the afternoon. Models, product, lunch and goodie bags and much more are provided.
You can request 1:1 customizable half or full day trainings and 'confidence hours'. Please visit www.theconfidencelab.com for more details.

Can I watch the video after completing the course?
Yes the video will be available to view when you log into your ranakennelly.teachable account, under My Courses.
I cannot see course content?
Ensure that you have logged in via the school web site: https://ranakennelly.teachable.com not the teachable.com website.

Can I view this content offline?
No, all courses need to be streamed via a suitable Internet connection.

Where are "My Courses"?
All your purchased courses are under the My Courses tab.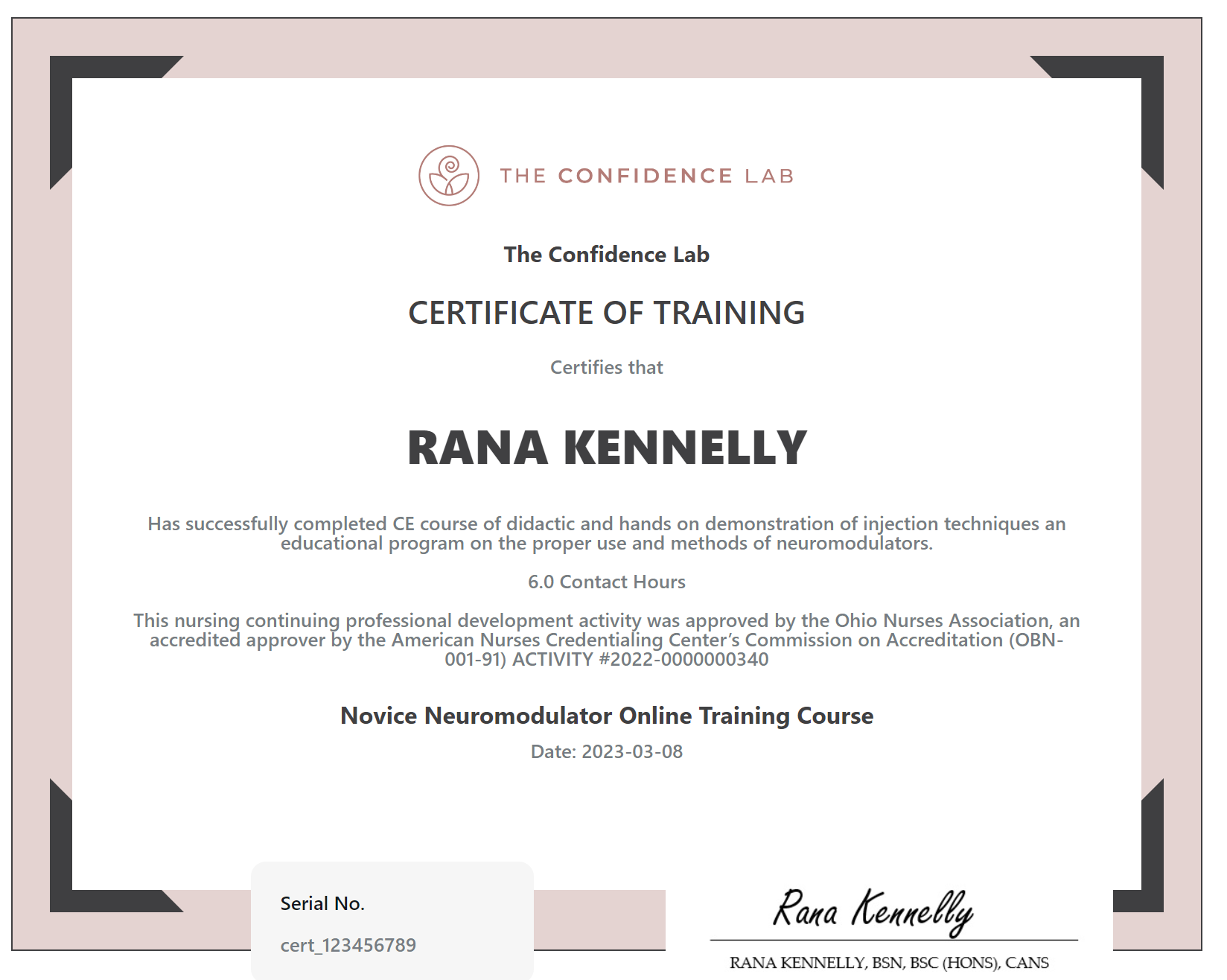 Digital Certificate of Completion
You will receive a digital certificate of completion which is downloaded as PDF file, when you have completed the course successfully.