About The Course
This course is truly a must for everyone who is running their own aesthetics business or considering doing so. Mastering these business foundations will prevent you from making costly mistakes and give you the roots you need to go ahead and spread your wings and soar.
It's an adjunct to our hands-on injection classes, and everyone who has completed the session says it is truly one of the most valuable courses any self-employed provider could complete.
Course instructor Laura Benarosch generously shares over three and half hours of her wealth of knowledge with the sincere desire to see you succeed.
Who? Take this class if you're ready to realize your dream of opening up your own business, or if you've recently opened your own business and you're seeking guidance in mastering the fundamentals and operating profitably. If you want to run your aesthetics business more efficiently and create a positive, easy-to-navigate environment for your patients and staff, experiencing this course could easily become the most important thing you can do to secure your future.
You will will learn: While no clinical practices are exactly alike, there are many key similarities. The knowledge Laura will share is applicable to a variety of medical and aesthetic business settings.
Topics include:
How to get started—turning your vision into reality.
Assessing the professional environment and business model that will best support your strengths.
Front desk strategies, scheduling, online management systems and other operational efficiencies.
How to incorporate your key values into your business.
Proper pricing and overhead analysis for maximum profits.
The importance of Key Performance Indicators (KPIs).
Thoughtful retail product selections to support your cosmetic care.
Insights into marketing your business via promotions, social media, special events, etc.
To stay in touch and reach out with additional questions following the completion of the class.


Why take this course?

See why Rana highly recommends this online business course

Laura Benarosch

Laura Benarosch is from Springfield, IL and has lived in Chicago for over 20 years. She is the current COO for Concierge Aesthetics and Plastic Surgery ("Concierge"). Concierge is a practice that started 10 years ago with one provider administering mobile Botox and is now a National Allergan Top 150 practice with over 30 employees and 5 locations in the Chicagoland area. Concierge is also the number 1 provider of CoolSculpting in the Midwest. Laura is the driving force behind the massive growth and success of Concierge Aesthetics and Plastic Surgery and with new locations still to come, she continues to provide proven results as a leader in the industry.
Laura is no stranger to hard work. Laura's beliefs and business practices have not only made her successful in Aesthetics, but within each company she chose to partner. Laura has helped organizations such as Barbizon, Kforce and Burns Entertainment to name a few.
Laura has worked from the ground up allowing her to understand how important each position of a business is and the KPI's to make that position and the organization a success. Laura is always learning and growing her knowledge and she firmly believes everyone can teach you something, whether it is the right way or wrong way -there's a lesson in each experience. Laura is results driven and her true passion is to help others be the best version of themselves and find success in what they enjoy doing.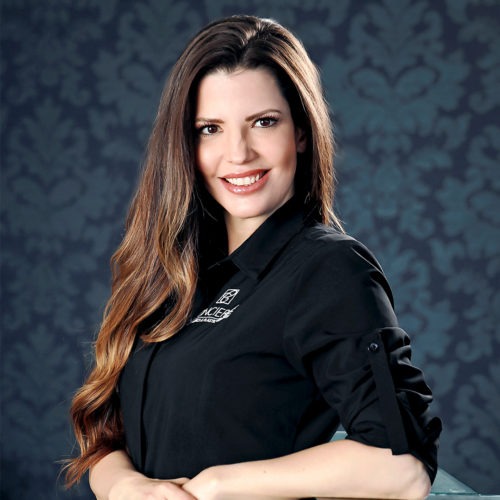 Student Testimonials
"I attended one of Laura Benarosch's Aesthetic business course today and left feeling empowered and gained so much insight into how to better support our centers and providers. All subjects regarding building an aesthetic business from the ground up were discussed. After explaining the foundation you would need to get a business running, Laura lead into how to track specific metrics and gave tools to use to better understand how to elevate a new aesthetic business or improve upon an established business.

I highly recommend this course for any new aesthetic business owners, managers/ admin, providers, and any other team members looking to broaden their knowledge within the field"
Sarah Ullmann
"I took a class at The Confidence Bar with Laura Benarosch and it was absolutely amazing! It was worth every penny to get such insight on the aesthetic "business side" of things! It can be nerve-racking wanting to start your own business in the aesthetic industry but having the tools that I learned from this class really helped boost my confidence on the business side of aesthetics!

The space is absolutely adorable and Rana was such a great host! I highly recommend taking a course at the confidence bar to learn from the pros!"
Jennifer Nieves


"I had the pleasure of attending a course at The Confidence Bar this past weekend. The course was led by Laura Benarosch, who provided a wealth of information about starting your own aesthetic business. She got into details about core values and having a policy for everything. The specifics she gave on marketing and social media were sensational. I highly recommend taking her course if you own a spa or medical office or if your thinking of starting your own business. I plan on taking her course again in a year from now to get more ideas on improving myself and my practice".  Noreen Ramsey Nurse Practitioner sole buisness owner "Laura is absolutely fantastic. She is an amazing speaker, and radiates a fierce passion for the industry. She is so knowledgeable and gave such great advice. I appreciated how easy her PowerPoint was to follow, and how her information was coupled with outside resources for us to look in to. I truly enjoyed the class and could pick her brain for hours!" 
Gina Gonzalez, Practice Manager

Thank you for signing up!
Many thanks for your purchase! We are sincerely grateful. A discount code is available on Rana Kennelly's Patreon page for the first 100 patrons.
Please enjoy 90 days of access to the business course after purchasing. If you have any questions, don't be hesitant to get in touch with us.